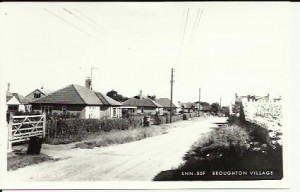 I have lost my way with getting photos onto pages.    This was chosen to go into the centre but has gone to the left.  And why is it at the top of the page?  But I have managed to get one at the right – because there is something blocking it going to the Left? 
Can I drag and drop one of them?  Will try. 
  Now what has happened?  They are bot in the centre, one below the other.  Lets try a new page – ie do I have to work from bottom up. 
Going to find some text to copy -open the notebook and do it properly.  And then try and get photos where I want them. 
Our Parish
Broughton is a village of fewer than 100 houses with a population of at some 240 residents at the 2009 formal estimates.  We lie 1.5 miles (2.4 km) northwest of Malton on the B1257 known for being a Roman Road. 
It is the first village the traveller comes across when going from Malton along the B1257 heading towards Helmsley and is very closely linked with neighbouring Swinton and Amotherby.   We have no shops, nor pubs, nor even a children's playground.  All we can boast is a bus shelter and 2 post boxes.  We have a daily postal delivery 6 days a week with post collected once a day. We have a milkman who delivers newspapers as well as milk and other products 4 days a week and a mobile fish man who visits once a week. Toddlers can join the Swinton Playgroup which uses the Reading Rooms in Swinton. Junior schoolchildren usually attend Amotherby Community Primary School with senior pupils going to Malton School.  
Now lets try and get a photo in here: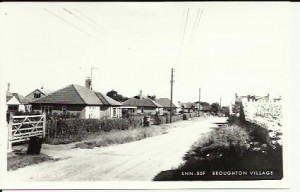 Achieved by drop and drag – it wouldn't let me do this the last time I tried.  Wish there was a save button.
Broughton does have equal use of a good-sized Sports Centre built in Swinton.  The Broughton Swinton and Amotherby Sports & Leisure Club offers badminton, 5-a-side football, cricket, soccer, netball and short bat bowls.  As well as the sporting activities, there are regular social events to help raise funds to run the Club which comes under the auspices of the controlling body, Swinton and District Playing Fields Association.
We can also use Amotherby Hall which also offers badminton and table tennis with the latter also being played at Swinton Reading Rooms.
And of course we are now the nearest village to the new sports centre at Malton School which is also for public use. 
Our parish extends from the River Rye in the north to Musley Bank in the south with the parishes of Malton on the eastern side and Swinton on the west.  Fields on the south side of the B1257 fall within the Howardian Hills Area of Outstanding Natural Beauty ( http://www.howardianhills.org.uk).  This makes us the first parish on the eastern edge of the AONB to have this honour.  At least one view, which can be enjoyed from a public footpath, justifies the accolade.
Between us and Malton parish is a stretch of woodland, known as the Plantation since the earliest maps, through which runs a public footpath named as Maiden Greve Balk.  Popular with walkers, especially those with dogs, this public footpath is the first of many routes – bridleways, footpaths and roads – which run between the B1257 and the Malton to Coneysthorpe road (known in Broughton parish as Braygate).  A public footpath links the Plantation with Swinton Lane.  From this are stunning views towards the North York Moors while Braygate offers glorious views of the Wolds. 
Running alongside the south of Braygate between Malton's bypass and the boundary with Swinton parish are the gallops for Musley Bank horse racing stables.
Horses also feature on two of our bridleways, Broughton Green Lane and Broughton Lane (known as Broughton Field Lane on the old maps).  These are travellers' horses which have been part of the scene for many years. They keep the grass on wide open bridleway trimmed well down but also eat the wildflowers.  Although the horses are tethered, it can be difficult to pass them because of their chains which stretch the full width and those who do not like horses tend to avoid these routes. Generally the horses are well behaved around dogs that are kept under control and not allowed to frighten them.
Broughton Lane is a Site of Importance for Nature Conservation (SINC), which means it is a wildlife site designated by the district council.  The lane is an unimproved neutral grassland, full of a range of wildflowers that were once much more common in the area. Notable species include sand leek, clustered bellflower, greater knapweed, and wild marjoram. Of interest is Knapweed broomrape, which is parasitic on the roots of Greater Knapweed.
Like many parishes as well as links to the Romans we also have an Anglo Saxon Burial Ground.   This could have given Broughton its name derived from Barugh or Barrow town.
Looking at old maps (http://www.old-maps.co.uk/maps.html ) shows how the main part of the village has changed so dramatically over the last century. The earliest map of 1854 shows the Gate House and just south of it Manor House, now known as Manor Farm.  What is now Broughton House appears to be by far the largest building and is perhaps what is called Broughton Villa on Breedycroft Lane.
Next to this house are buildings in the area of what is now known as Oak Farmhouse and Blacksmiths Yard previously named Holme Farm.  Adjoining this farm are two cottages with a date stone between them showing 1872.   In between these scattered properties were mainly fields or orchards. Flowery Hill (now known as Flowery Bank) features, clearly showing the land attached to each of the cottages. To the east of these cottages there were once limestone quarries and a limekiln. 
It is not until after the start of the 1950s that big changes happen (see under the heading of Places).  There was even once a cricket field, courtesy of the late John Potter and then Alan Raines of Oak Farm.  During the early part of the 20thC the field was used also for village festivities such as celebrating Coronations and Jubilees (see photo gallery).  Today there is nowhere for children to play let alone have a cricket match.
Once there were at least 6 working farms in the parish.  Gone are Woodhouse Farm and Plantation Farm which were absorbed into other farms and Holme Farm which was eventually developed to form 5 cottages.
 Oak Farm has partly disappeared as its farmhouse was sold off separately along with old farm buildings which were converted into two properties.  Before that the old farmyard became 5 houses.  As well as Oak Farm, there is Quarry Farm on the B1257 and Manor Farm which is  one of the oldest buildings in the parish. 
Other properties also had enough land to be called smallholdings.  All such land together with large gardens/orchards has been sold for development.
Our two eldest residing villagers born in bedrooms in Broughton in the 20C are Jeff Paulin and John Lund.  Recently they met the youngest – Benjamin Thomas Cluderay, born on 24.09.2005 at around 9.30pm in bathroom at Broad View (see under People).
We have no parish councillors as we are a Parish Meeting.  We have one district councillor (Ryedale District Council), one county councillor (North Yorkshire County Council) and 6 MEPs. (See under Officers and Councillors for contact details).